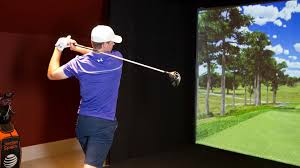 WINTER GOLF?!
Welcome to the Ironwood Indoor Golf Simulators! We offer the areas newest state-of-the-art golf simulators featuring over 88 of the top courses in the world to enjoy all winter long! We will be hosting tournaments, leagues, private parties, special events and memberships. Email us at golfironwood@yahoo.com or call the clubhouse at 517.546.3211 for more information or to book a reservation. We also have a full bar and menu service while your enjoying the simulators. We are now accepting tee times daily, times fill up fast so call today. The simulators are also a great place to work on your swing during the off season and golf instruction is available. They are also great for getting feedback on your swing as they have all the state-of-the-art diagnostics similar to the launch monitors all the major club fitters use.
Simulator Pricing*:
Monday-Thursday: $30.00 per hour/simulator.
Friday, Saturday, Sunday & Holidays: $40.00 per hour/simulator.
Private Parties: $50 an hour per simulator bay.
High School or Collegiate team pricing available: Call for details 517-546-3211
Memberships available !
*Rates are not per player. You rent the simulators based on time, whether you have 2 players or 4 the rate stays the same. Example: 2 players for 1 hour would be $15 per player on a weekday.